Orange County Corporate Attorneys: What We Do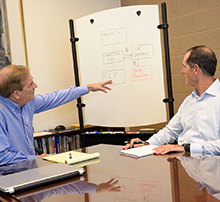 Business succession or exit planning, whether as a product of a merger or acquisition or a sale in contemplation of retirement, is a highly personal process. The Hogan Law Group, PC, a preeminent Orange County corporate attorney team, understands the interplay among the business, personal, financial, legal and tax issues involved in selling a business and tailors a strategy specifically designed for each company.
A Proven, Phased Process Explained By Our Orange County Corporate Attorneys
Ideally, a plan to sell a business should allow for at least two years of planning and preparation for our Orange County corporate attorneys. This methodical and rational approach typically proceeds through the following phases:
Phase I: Objectives and Timeline
Phase II: Internal Review
Phase III: Valuation/Analysis
Phase IV: Strategies and Plans
Phase V: Implementation
Hogan has developed a highly effective group of specialist partners, primarily called in during Phase II and Phase III, such as:
Business management consultants
Certified public accountants
Commercials appraisal specialists
Specialist attorneys
Wealth managers
Company Valuation
Ultimately, our Orange County corporate attorneys understand that the bottom line question is always, what is the valuation of the company? A simple question, yet there is no simple answer. Hogan Law takes the approach that most businesses need be valued by employing a number of different methods to give the owner what they need to make informed decisions. Among the standard valuation methods are:
Asset-based valuation; a company's net value is looked at through five different perspectives; book value, replacement cost, appraised value, liquidation value and market value.
Revenue multiple method; typically, one year's gross revenue is multiplied by a factor, which varies by industry and area. Another option may be to use a company's stock market PE ratio for its industry.
Comparable firm transactions; although this can be a very instructive method, information from a privately held company is often difficult to come by.
Discounted cash flow; this method may be most valuable because it considers a company's future more so than its track record.
Contact our Orange County Corporate Attorneys for Legal Advice
If you are considering selling your privately held company, you need to fully understand all the implications. Begin with a call to the Hogan Law Group, PC, at (877) 302-7759.